Dentures – Kessler Park, TX
A Beautiful and Functional Smile with Dentures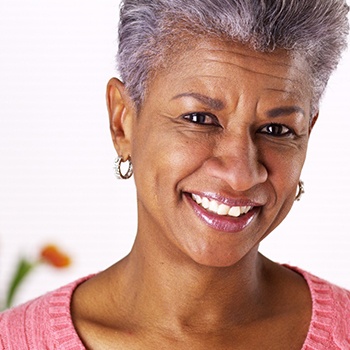 When you're missing a row or full set of teeth, activities that were once easily performed suddenly become a chore. Eating some of your favorite foods has become a thing of the past, and you're reluctant to smile. There's a way, though, to get your life on track again: by Dr. Martinez fitting you with a set of custom-designed dentures. Contact our Kessler Park office today to schedule a consultation so you can experience smile bliss!
How Do Dentures Work?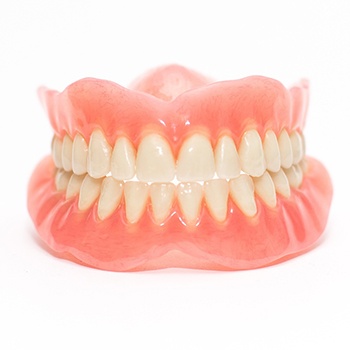 A set of dentures consists of porcelain teeth affixed to a gum resin base. The two features work perfectly to mimic the look of your natural teeth and gums in shape, texture and color. They are equally efficient in the area of functionality.
Here are the typical steps we'll take to ensure you're left with a set of teeth that compel you to smile:
Bite impressions that are used to create a perfectly-fitting set of dentures
Creation of a wax rim so Dr. Martinez can make sure your bite is aligned correctly
The creation of a mock-up by an in-network lab that allows for any final adjustments to be made
The fabrication of the final set of dentures
How Much Do Dentures Cost?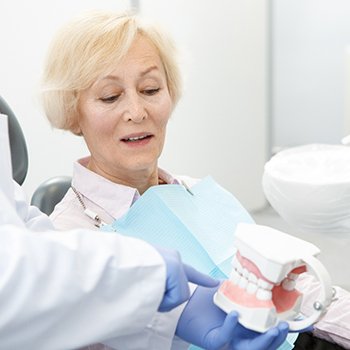 Another important component of the denture process to consider is the cost. Because the procedure is highly customized, there are no set prices.
When you visit our Kessler Park office, though, Dr. Martinez will perform a thorough examination to develop a plan just right for your needs and desires. At that point, you'll be provided with an accurate quote so you can plan accordingly.
One of the perks of receiving dentures is the process is usually covered by dental insurance. To determine the specific percentages, though, you'll need to review your plan.
Who Should Consider Dentures?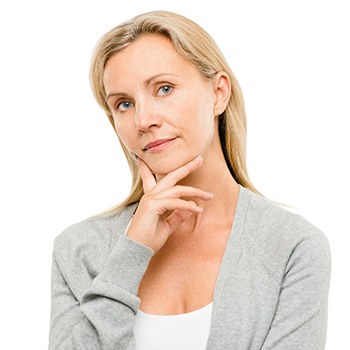 Anyone missing a row or a full set of teeth should consider dentures for replacement. More specifically, though, this is the best route to take for people who prefer a non-invasive way of restoring their smile aesthetics and the normal function of their teeth.
Dentures are also an excellent option for patients who've suffered bone loss due to the prolonged absence of their teeth. Whereas dental implants require an adequate amount of bone mass to be present for them to seat properly, you don't have to worry about that with dentures since they rest above the gums.
Then, with the new innovations in dental adhesives and materials, the denture experience isn't the same as it was when your grandparents were fitted years ago.
It's only natural to experience a significant dip in the area of confidence when you're without a full set of teeth. You don't have to settle for living this way any longer, though. At Kessler Park Dental, we take pleasure in giving patients something to smile about once again. Contact us today to start your new life!
The Benefits of Dentures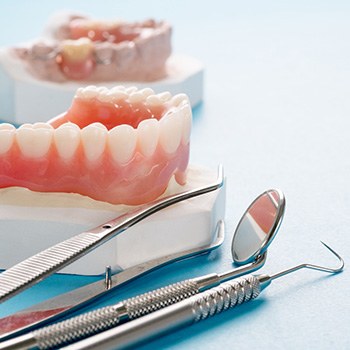 Life is genuinely hard when you're missing teeth. After all, tooth loss makes everyday tasks – eating, speaking, smiling, etc. – challenging. Thankfully, you can count on dentures as a life-changing solution. These prosthetics fully restore your smile and thus offer a great many perks. In fact, we at Kessler Park Dental will happily give you the details. To that end, keep reading to learn the benefits of dentures and how they'll give your smile another chance.
Psychological Benefits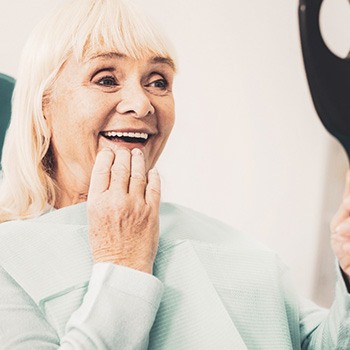 Especially at first, tooth loss is difficult to accept. That's only natural – most people are used to having a full and complete grin. As such, being without teeth can lower your self-esteem and body image. From there, you might feel anxious around peers, retreat from social settings, and become sad or depressed.
All that said, dentures would help you avoid this situation. They can restore your smile and boost your confidence in the process. The result would be a stable mood and reduced anxiety about your looks, speech, and eating ability.
Clearer Enunciation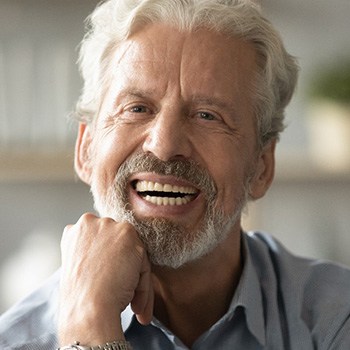 Truthfully, missing even a few teeth causes speech problems. You need all your pearly whites to position your lips and tongue when speaking. Therefore, lacking some will cause pronunciation struggles.
Still, dentures solve this speech issue by acting as substitute teeth. They support your tongue and lips like other chompers do. However, you'll need to adjust to them first. Practice is crucial to speaking with these new teeth naturally.
Improves Nutrition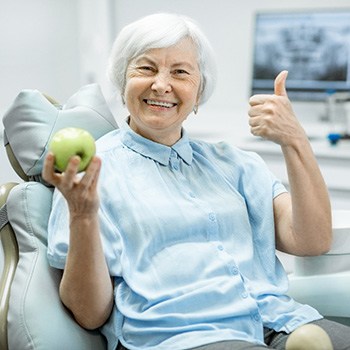 As with speaking, eating is also tricky when you lack teeth. The mouth depends on a full smile to chew food thoroughly. Without one, a patient will inevitably restrict their diet. They'll have to exclude tough-but-healthy foods due to their reduced bite force. This exclusion, though, will then cause malnutrition or indigestion.
Thankfully, dentures can quickly solve this dilemma. Their artificial teeth chew food almost as well as natural ones. That being the case, they'll widen your dietary options to ensure proper nutrition and digestion.
Preserves Oral Health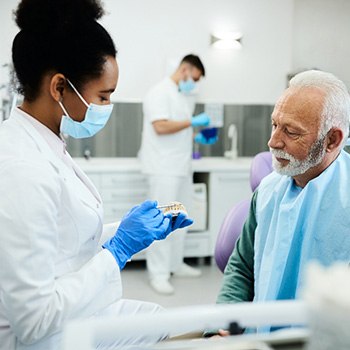 Tooth loss harms your smile's health, not just its looks. The condition causes gaps between teeth that house harmful bacteria. Worse yet, these spaces can make surrounding teeth tilt. This process can cause further tooth loss if left unchecked.
Naturally, dentures protect oral health by "filling in" the gaps. Doing so deprives nasty oral germs of suitable breeding grounds. Simultaneously, the prosthetics reduce wear and tear on your other teeth.
Expands Opportunities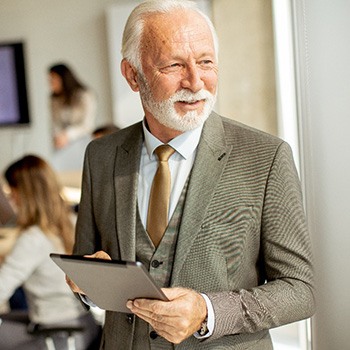 Ultimately, your smile is the first thing people notice about you. It's thus crucial to making a good first impression. By showing off your gleaming grin, your family, friends, and co-workers will look at you favorably and offer more opportunities.
As you might expect, dentures give you a great smile for these impressions. Their acrylic teeth look lifelike and blend seamlessly with adjacent ones. With such an appearance, they'll give you access to many social and professional chances. The restorations could even get you a raise or promotion at work! In that case, the dentures would practically pay for themselves!
Dentures Aftercare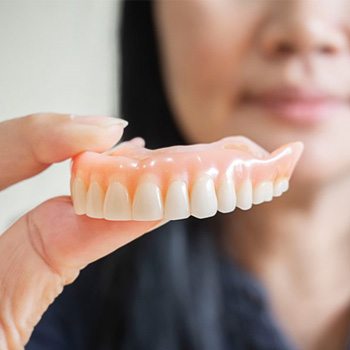 Dentures have been used for decades for being one of the most reliable methods of replacing missing teeth. With the ability to renew your smile with a cost-effective and relatively quick treatment, you'll be sure to enjoy your restored bite and beautiful pearly whites again. Still, you'll need to take certain precautions to make the most of your results. Not only will you want to practice at-home measures, but you'll also have to visit your dentist regularly to help prevent potential complications. Here are several tips for caring for your dentures.
Removable Dentures
Remove After Eating
Once you've finished a meal, be sure to take out your dentures and rinse them off. This can easily help you avoid accumulating food particles, debris, and bacteria on your prosthetics and in your mouth. Don't use hot water, as the temperature can end up warping the shape of your dentures, causing them not to fit correctly.
Clean Your Restoration
Whenever it's time to clean your dentures, make sure to remove them. This will allow you to clean the inside of your mouth as well as the entire surface of your prosthetics. You should especially clean the underside, as this is where bacteria can collect along the gums. Use a soft-bristled toothbrush and scrub your dentures with unscented hand soap or denture cleaning solution. Normal toothpaste can be too abrasive and you shouldn't ingest hand soap. Afterward, rinse your dentures before putting them back in, or store them in a container of water or denture cleanser to keep them clean until you wear them again.
Keep Your Dentures Safe
Your dentures should be durable enough to withstand the pressures of chewing, but this doesn't make them indestructible. Place a towel underneath you while cleaning them just in case you accidentally drop them. This can prevent any breakage or damage, which will cost more money. Be sure to also keep your prosthetics out of reach of pets or small children.
Remove Dentures When You Sleep
If you're going to bed, be sure to take your dentures out and place them in a cup of water overnight. Not only will this keep them moist and bacteria-free, but it'll also give your gums a chance to receive the nutrients and rest they need. Keeping your prosthetics on for too long can lead to gum irritation and a high risk of gum/tongue plaque and pneumonia.
Notice Changes
Check for any indications of an oral health problem, such as mouth sores, gum irritation, or signs of infection. If you suspect there's an issue, notify our team right away so we can help address it. We'll assess your situation and determine which treatment is best for you or if we need to adjust your dentures.
Denture FAQs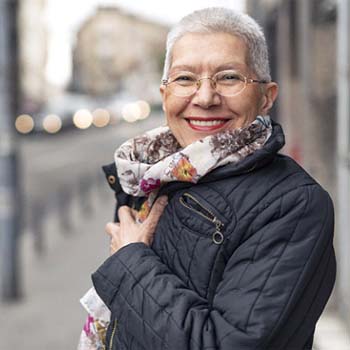 Dentures are an excellent tooth replacement option for those who are missing several, most of, or all of their teeth. However, you may still have some unanswered questions about the restoration, so we're here to help. Here are the answers to some of the most popular questions we receive about dentures in Dallas. If you don't see the information that you're looking for below, don't worry! Give us a call and we'd be happy to talk to you more about the process and schedule you for an initial consultation.
Should I Have All My Teeth Pulled to Get Dentures?
Repairing a damaged tooth whenever possible is always preferable to replacing it. Tooth extractions of any kind will only ever be recommended if deemed absolutely necessary, like when a tooth is too damaged to save thanks to extensive decay, severe infection, or trauma that has broken off most of the enamel. If all the teeth in an arch are decayed or infected with gum disease, replacing them with dentures may be a viable option, but your dentist will always explore all of your options before recommending extractions for dentures.
Can I Sleep with My Dentures?
Dentists will generally recommend that you take your dentures out at night when you go to bed. When you first get your dentures, you will typically be told to keep them in your mouth for 24 hours, including when you sleep. After this, you should be taking them out every evening. This is because wearing dentures restricts the circulation in your gums, leading to soft tissue irritation and potentially speeding up ridge resorption. Taking dentures out gives the dentures a chance to recover and get the nutrients they need while you sleep. Ultimately, it is a good idea to take out your dentures while you catch some Z's.
Will It Hurt to Get Dentures?
If you need to have teeth extracted before you can get dentures, you are likely to experience some discomfort after oral surgery. Take your prescribed pain medication only as directed and the discomfort should improve 3 to 5 days after the procedure. When you first receive new dentures, some minor irritation may occur as your mouth adjusts. The amount of time that this takes will vary from person to person. If you switch to a new set of dentures, the adjustment process may take longer than before. Give us a call if discomfort persists so we can help!
Can You Still Eat Steak with Dentures?
Tough meats, like steak, are often difficult to chew when you have dentures, but it is still possible to do so if you take all the right precautions. Select tenderloin and other beef cuts that don't contain as many connective tissues or muscle fibers, as these elements are what make steak difficult to chew. Make sure that the meat is thoroughly tenderized beforehand. Cut the steak into small, manageable pieces. The smaller they are, the easier they will be to chew.