Dental Implants – Oak Cliff, TX
Close the Gaps in Your Smile…Forever
Over the past three decades, dental implants have become the premier way dentists around the world replace missing teeth. This state-of-the-art procedure actually restores an entire tooth both above and below the gum line, delivering a final result that is virtually indistinguishable from nature. At Kessler Park Dental, Dr. Martinez is ready to offer this state-of-the-art treatment, and unlike many general dentists, he can complete the entire procedure himself to ensure a quick and seamless experience. To learn more about implants and how they can help rebuild your smile, contact us today.
Missing One Tooth
A dental implant is actually a small titanium post that is placed directly into the jawbone to recreate the root structure of a lost tooth. Once there, it can be used to support a variety of restorations that show above the gum line. For people missing a single tooth, this post can be used to hold up a custom-made all-porcelain dental crown. It will be specially shaded to match a patient's enamel color, and with regular brushing and flossing, an implant can easily be trusted to last for 30 years or more.
Missing Several Teeth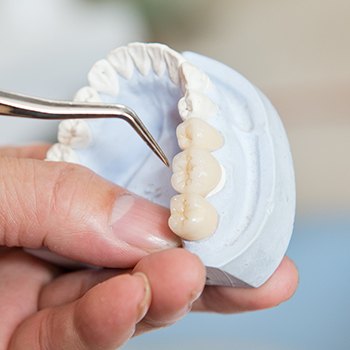 Implants can also be used to support a dental bridge to replace multiple consecutive missing teeth. Implant bridges, compared to traditional ones, not only look more natural, but can be trusted to last much longer as well. And, they also don't require healthy teeth to be cut down to stay in place. Instead, two implant crowns are positioned on either side of the missing ones, and these are bonded to prosthetic teeth that fill in the space.
Missing All Teeth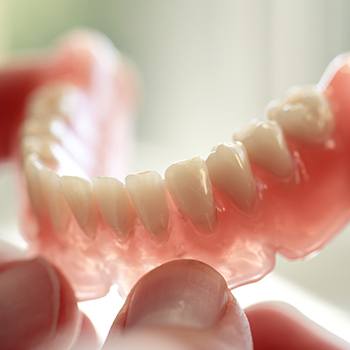 Do you have a denture that you can never trust to stay in place? Then dental implants may be exactly what your smile needs. With implant-retained dentures, the teeth are anchored directly to the jawbone using multiple posts to create a stable and secure hold a traditional prosthetic simply can't match. Plus, implant dentures have also been shown to restore much more of a patient's bite strength, enabling them to enjoy a more varied (and inevitably healthier) diet with ease.
Cost of Dental Implants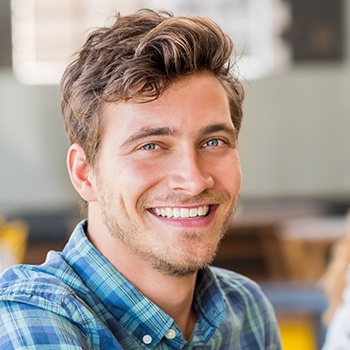 A quick search online will reveal that dental implants tend to be more expensive than traditional dentures and bridges upfront. Are they worth the expense? In truth, the final price of an implant procedure can vary quite a bit from patient to patient, but overall, they are by far the most cost-effective replacement available today. Why? In addition to their unmatched natural-appearance and capacity to function, dental implants can also last for 30 years or more with the proper care. Regular dentures and bridges, on the other hand, typically need to be completely redone every 7-10 years.
The 4-Step Dental Implant Process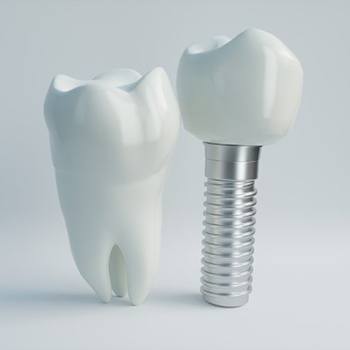 One important thing to know about getting dental implants in Oak Cliff is that the treatment process takes longer than it would for a regular bridge or denture. As any of our dental implant patients can tell you, though, your new teeth will be worth every second of the wait! Not to mention, Dr. Martinez has undergone advanced training to be able to surgically place dental implants in our office, streamlining your treatment. Here's a basic guideline of what to expect during each of the four steps of the dental implant process.
Initial Dental Implant Consultation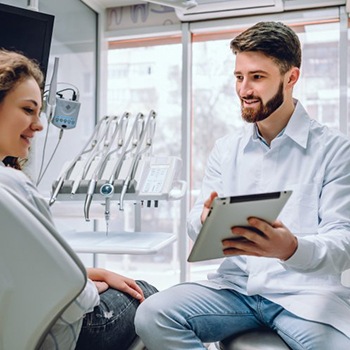 First, you'll visit with Dr. Martinez for a consultation. For dental implants to be successful, they require extensive planning before their surgical placement. This appointment gives Dr. Martinez the opportunity to examine your mouth and jaw, both with X-rays and his highly trained eyes, to get an idea of the current state of your oral health. He'll also walk you through an outline of how your treatment will proceed from there. If you still have any questions about how dental implants work in Oak Cliff, your consultation would be the perfect time to ask!
Some patients might not quite be eligible for dental implants right off the bat. There's a chance you'll require one or more preliminary procedures, such as bone grafting to strengthen a jawbone that has deteriorated after tooth loss. We'll go over what you can expect with these treatments, which will increase the chances of your implants lasting for a lifetime!
Dental Implant Surgery
When your mouth and jaw are ready to support dental implants, our team can schedule your surgery. This procedure is actually fairly straightforward and more comfortable than many of our patients expect. Dr. Martinez will numb the treatment area and create small incisions in the gums. He can then access your jawbone and insert the implant posts at precisely planned locations and angles. Lastly, he'll seal up your gum tissue over the implants. He may place temporary restorations for you to use as you heal.
Dental Implant Osseointegration & Abutment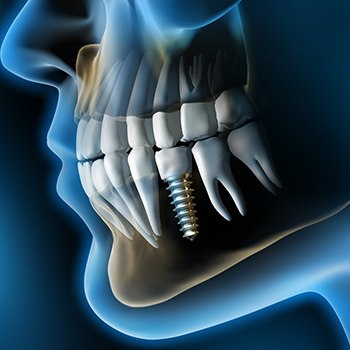 Dental implants are made from biocompatible materials like titanium. Once they have been made, the body's natural inclinations take over, and the jawbone begins fusing with the implant. This process, called osseointegration, is the reason why dental implants are able to deliver the longevity and reliability that they're known for.
Osseointegration usually takes somewhere between four and six months. Afterward, you'll come back to our office for your abutment placement procedure. Your implant dentist in Oak Cliff will reopen your gums and install the abutments – metal attachments that secure your restorations in place – on top of your implants. Recovering from this procedure takes another two weeks on average.
Delivery of Dental Implant Restoration(s)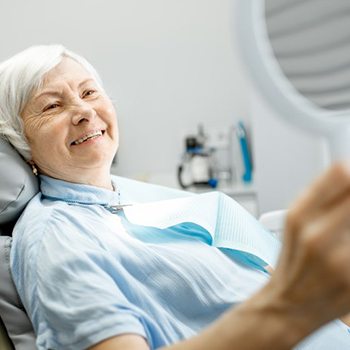 After you've fully healed from getting your abutments, it's time for the moment you've been waiting for – getting your new pearly whites! Dr. Martinez will place a crown, bridge, or denture (depending on the number of teeth you're missing) on top of your implants, which has been customized to look like your original teeth. Once this step is complete, you can finally begin enjoying your new smile to the fullest!
Dental Implant FAQs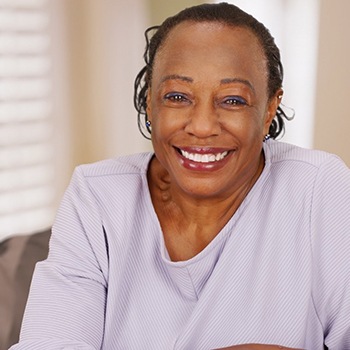 Are you ready to close the gaps in your smile forever? Dental implants in Oak Cliff are truly unlike other tooth replacement options, so it's natural to have a few questions about them. During your initial consultation, Dr. Martinez will go over all the information you'll need about rebuilding your smile with this unique treatment. In the meantime, we encourage you to look over the frequently asked questions about dental implants we've gathered for you below!
I'm Interested In Dental Implants—Where Do I Start?
The first step on your journey towards permanently replacing your missing teeth is to meet with Dr. Martinez. He'll have a conversation with you about your tooth replacement goals, review your medical history, and closely inspect your smile. If we detect any signs of tooth decay, gum disease, or diminished jawbone, we'll make a plan to address these problems first since they can threaten the success of your treatment. Once your oral health is on track and Dr. Martinez has confirmed that dental implants are right for you, the dental implant process can begin.
Do I Need to See a Specialist to Have My Dental Implant Placed?
Placing dental implants is a surgical procedure, so many dentists need to refer their patients to a specialist for this step. But at Kessler Park Dental, we're proud to bring the specialist to you! Dr. Martinez has completed countless hours of continuing education in dental implant placement, so he can personally perform every step of the implant process, from consultation, to surgery, to final restoration, in one familiar office. What's more, he's also certified in both nitrous oxide and Level 1 Sedation, so you can rest assured that rebuilding your smile will be as pleasant and comfortable as possible.
Can I Brush My Dental Implant Like a Natural Tooth?
Not only do dental implants look, feel, and function just like natural teeth, but they can be cared for just as easily as well! You won't need to use any special cleaning products or make any changes to your daily dental routine. To keep your dental implant clean and the tissues that help hold it in place healthy, be sure to practice healthy habits like:
Brushing your teeth for two minutes twice a day.
Flossing between all your teeth daily.
Rinsing with antiseptic mouthwash regularly.
How Long Does the Dental Implant Process Take?
Unlike other tooth replacement options, restoring your missing teeth with dental implants is a multistep process that's completed over the course of several months. Once the small titanium post has been surgically placed into your jawbone, it will undergo osseointegration. This is where the post fuses with the surrounding bone tissue to form a rock-solid foundation for your new tooth. Typically, this stage takes anywhere from four to six months until your mouth has healed enough to move on to placing your final restoration. While getting dental implants takes more time and effort than dentures or a dental bridge, their unmatched comfort, functionality, and longevity are well worth the wait!
Replace your missing teeth for good! Give us a call today to see if dental implants are right for you!