January 14, 2020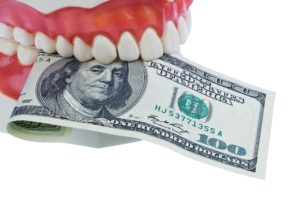 If you're like most people, you probably look for areas in your life where you can save a buck or two. While you shop the best deals and only buy the necessities, you might also skip routine dental care to save money. Often, it's thought you don't need to see your dentist until after a problem arises despite the American Dental Association recommending a cleaning and checkup at least twice a year. If you're among those who don't visit their dentist regularly to cut costs, did you know you're actually increasing your dental expenses? Although semi-annual appointments may seem like a hassle, they provide a valuable savings opportunity.

Why Do I Need to See My Dentist Regularly?
You know you're supposed to visit your dentist twice year, but you're among the 42% of adults who don't have an appointment as often as they should. Instead, you rely on your toothbrush and floss to keep your smile healthy. While they are your first line of defense against preventable dental issues, they aren't enough. You also need to see your dentist for a cleaning and checkup at least twice a year.
Even with the best brushing and flossing techniques, there are areas in your mouth where plaque and tartar will accumulate. If the buildup isn't removed regularly, it significantly increases your risk of tooth decay and gum disease. With 92% of adults have had at least 1 cavity and at least 50% of Americans having gum disease, a professional oral hygiene appointment can ensure your smile stays healthy.
Besides a cleaning, your dentist also performs a comprehensive checkup. This allows them to monitor your oral health to detect concerning areas soon for quick intervention. This prevents needing an expensive treatment in the future while also reducing your risk of a dental emergency to ensure there aren't any hidden issues brewing in your mouth.
How Much Money Can I Save?
Believe it or not, routine dental care will save you money down the road because it stops problems from occurring in the first place. In fact, research shows every $1 spent on prevention can lower your restorative and emergency dental fees by as much a $50.
Don't worry about a large dental bill when visiting your dentist because most insurance companies cover the appointments 100%. Although every policy differs, most plans allow you to see your dentist 1-2 times per year for only a small co-payment. If your dentist finds an issue, it can be treated quickly without breaking the bank. Your insurance will cover a portion of the cost to lower the amount you need to pay out-of-pocket.
Invest in a Healthy Smile
If you're trying to save money, be sure to visit your dentist regularly. You'll maintain a healthy smile to avoid unexpected dental expenses.
About Dr. Jayme Martinez
Dr. Jayme Martinez and his team provide personalized dental care through a focus on prevention. He offers the latest solutions in dentistry to ensure your teeth and gums stay healthy. He works with many insurance carriers to keep his services affordable. If you need a cleaning and checkup, contact our office today.
Comments Off

on Save Money Through Regular Dental Care
No Comments
No comments yet.
RSS feed for comments on this post.
Sorry, the comment form is closed at this time.