February 6, 2019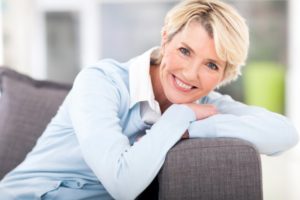 If you're missing one or more of your teeth, you're not alone. This common problem affects around 120 million Americans. For years, your only option for tooth replacement was dentures, but thanks to modern dentistry, you now have the most realistic restoration available: dental implants. Not only to they look and function like your normal smile, but dental implants also have health benefits. Keep reading to learn how you can give yourself boosted confidence with a completed smile in the new year.
What Are Dental Implants?
Dental implants are small titanium posts that get surgically placed in your jawbone. Titanium is biocompatible, so it actually fuses to your bone to create a strong support for a restoration (false tooth). Dental implants can be mounted with a variety of restorations depending on the number of teeth you're missing. With proper care, you can expect to enjoy your dental implants for a lifetime.
The Physical Health Benefits
Dental implants offer a unique health benefit that no other dental restoration can! They are the only replacement that preserves your bone. Your natural tooth roots have the important job of stimulating your jawbone to keep it strong and healthy. When you lose teeth, you lose some of the blood-flow that your bone was once getting. This causes weakening and deterioration of your jawbone. If you replace your teeth with dental implants, they stimulate your jaw just like natural teeth to strengthen and preserve it.
The Mental Health Benefits
Possibly the biggest benefit of dental implants is the huge boost in confidence they can give you. Other replacements like dentures slip and slide when you talk and eat, causing a whole new set of problems. With dental implants, you can talk, chew, and laugh with the confidence of knowing that your teeth aren't going anywhere.
Additionally, dental implants are the only replacement that allows your dental restoration to mimic the way your natural teeth emerge from your gums. This creates an amazing looking and feeling grin. Studies have shown that a beautiful and complete smile can make you appear more youthful, successful, confident, and trustworthy.
How to Get a New Smile in the New Year
The only way to know if dental implants are right for you is to visit your dentist. They will give your mouth a careful examination to see how you could benefit from dental implants. Typically, good candidates have strong jawbones that can accommodate implants, but your dentist can also perform bone grafts to strengthen your jaw.
Does it sound like you could benefit from dental implants? Contact your dentist to get started on a healthy, beautiful, and confident smile for the new year.
Meet the Dentist
A graduate of the Baylor College of Dentistry, Dr. Jayme Martinez takes pride in providing expert care to his patients in Dallas. He offers dental implants as an option to complete smiles in the healthiest way possible. He currently practices at Kessler Park Dental, and he can be contacted through his website or by phone at (214) 303-9969 for any questions.
Comments Off

on New Year, New Smile with Dental Implants
No Comments
No comments yet.
RSS feed for comments on this post.
Sorry, the comment form is closed at this time.